Leicester District Pool League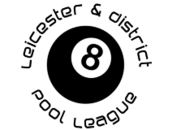 Leicester District Pool League
Leicestershire's laid back, friendly, local league where everyone is welcome
League Match Rules

All matches are to be played in line with the "Match Rules"

The Format

Matches are made up of 10 frames (4 singles, 4 singles & 2 doubles)
1 copy of a physical scorecard should provided by the home team. It should be filled out with the home team writing their players down on their own card first and then the away team adding their players to this card.
All captains will be provided with a login for the league App for the purpose of providing live scoring to our website. This will also act as a scorecard in line with the physical scorecard.
Players 1 to 4 should be named before frame 1 commences. Players 5 to 8 before frame 5 commences and the doubles immediately after frame 8 has ended. All sections should be completed by the home team first.
Any one player may play a maximum of one time in frames 1 to 4, one time in frames 5 to 8 & one time in frames 9 to 10.
No player registration is required to play for a team; however a player may only play for one team per season unless a transfer is approved by the committee.
3 points are awarded for a win, 1 for a draw and 0 for a loss.
Follow the site to get the latest news and results straight to your email