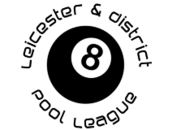 Leicester District Pool League
Leicestershire's laid back, friendly, local league where everyone is welcome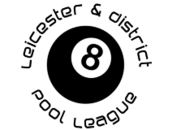 Knockout Competition Rules

Team knockout competitions (Premier Cup, Cup, Plate, Shield)

All matches are to be played in line with the "Match Rules"
For any team KO match, only players who have represented that team in at least 1/3 of league matches are eligible (excluding the first round of the KO Cup as only 3 or 4 league matches take place before this date) - please note this will be checked and use of illegal players will instantly forfeit the match unless this sanction is reversed by the committee.
Matches will be best of 11, so first to 6 wins the game and any remaining frames do not need to be played

Matches are made up of 10 frames (4 singles, 4 singles & 2 doubles)
In the event of a 5-5 tie, a singles play off will be played. Any player that has played on the night may play again. The break will continue as before

Matches should start at the time stated in the draw
Every round will be randomly drawn on Facebook Live. To keep it fair, we will not use the pyramid format, as the team at the top of the pyramid would always be at home and the bottom would always be away.
Individual knockout competitions (Singles, Doubles, Over45s, Under25s, Ladies)

All matches are to be played in line with the "Match Rules"
Players must have played for a team that have played in the LDPL in the current season
Match start time and venues will be stated in the draw
The break will be decided by the toss of a coin
Matches on the run up to the Semi-Final will be best of 5, so first to 3 wins
Semi-Final will be best of 7 frames, so first to 4
Final will be best of 9, so first to 5
Round 1 will be drawn on Facebook Live and every round thereafter will go into a pyramid style format
Social, News & Weather
Facebook
Never miss an update
Follow the site to get the latest news and results straight to your email